-Luigi's Alfredo Linguini-
Shhh don't tell Mario, but Luigi was my favorite character to play. I hope you enjoy this meal, it's great any time of the week!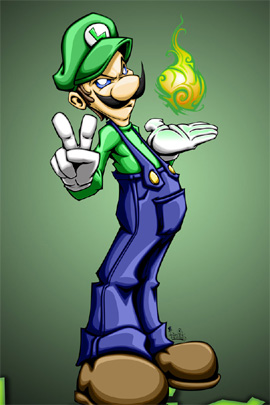 The Goods:
-1 lb of Linguini noodles
-2 teaspoons minced garlic
Tutorial:
Bring a pot of water to a boil
Now once your water is boiling, throw in your pasta and cook until al dente - about 5 minutes.
In another small pot or saute pan, melt your butter over a medium heat.
Add minced garlic until nicely browned
Add cream cheese, mix/whisk until smooth
Add milk, a little at a time, whisking to smooth out lumps.
Stir Parmesan Cheese into your sauce and continue whisking until smooth.
remove cheese sauce from heat when sauce reaches desired consistency - mix in chopped fresh basil and throw in your pasta.