Hello fellow whovians! Welcome to the Dr Who edition of Cooking 4 Noobs! Today's dish is inspired by the Eleventh Hour Episode.
We will not be using actual custard, rather a delicious dip that resembles a creamy custard. I hope that you enjoy fish, because this recipe is pretty damn delicious.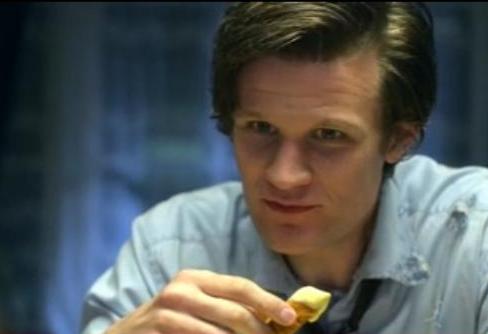 The Goods:
For the Fingers:
1 1/2 pounds - Talapia, Cod, Salmon, or Flounder (you choose the fish of your choice)
2 cups - Panko Breadcrumbs / pre seasoned (these can be found in the international/asian isle of your grocer)
1 Tablespoon - Oldbay Seasoning
1 Cup - grated Parmesan Cheese
1/2 Cup - All Purpose Flour
For the Custard:
1/3 cup - plain greek style yogurt
3 Tablespoons - Mayonnaise (Lite if you prefer)
2 Tablespoons - Dijon/Spicy Deli Mustard
1/2 Teaspoon - Worcestire Sauce
2 Teaspoons - Chopped/Grated Horseradish
Tutorial:
Preheat the oven to 400 degrees F
Spray a baking sheet with cooking spray.
In a Bowl, combine the flour, salt and pepper, and oldbay seasoning.
In a Seperate bowl, beat the eggs.
Finally in another bowl, mix the panko breadcrumbs and parmesan cheese together.
Cut the fillets into 4 by 1-inch strips.
A few pieces at a time, dip the fish into the flour mixture, dusting off the excess.
Follow by dipping fish into the beaten eggs.
Lastly, dip the fish in the panko/parmesan mix.
Arrange them on the baking sheet and continue until all of the fish is breaded.
Bake until golden and cooked through, about 10 minutes.
You can flip them for another 2 minutes if necessary.
Meanwhile, in a small bowl, stir together the yogurt, mayonnaise, mustard, Worcestershire sauce, horseradish,paprika and cayenne.
Season, to taste, with freshly ground black pepper.
Enjoy and have a wibbly wobbly timey wimey!